I want to make your love life better.
I struggled with the anxiety for years. Happiness seemed just around the next corner. At some point you start to think…
You'll never "find the one."
You're not successful enough.
You'll be happier when…
And that's how you discovered self-development books and programs, which only kind of work for you.
But, with each answer comes more questions.
You start to feel a little broken.
But it's not your fault!
Self Development Gurus are mostly FULL OF SHIT!
I'd like to believe that they mean well. But, when they keep giving bad advice and perpetuating unfounded myths about the science of success and our place in the universe, it makes me think that my heroes of Self-Development are just old fashioned snake oils salesmen.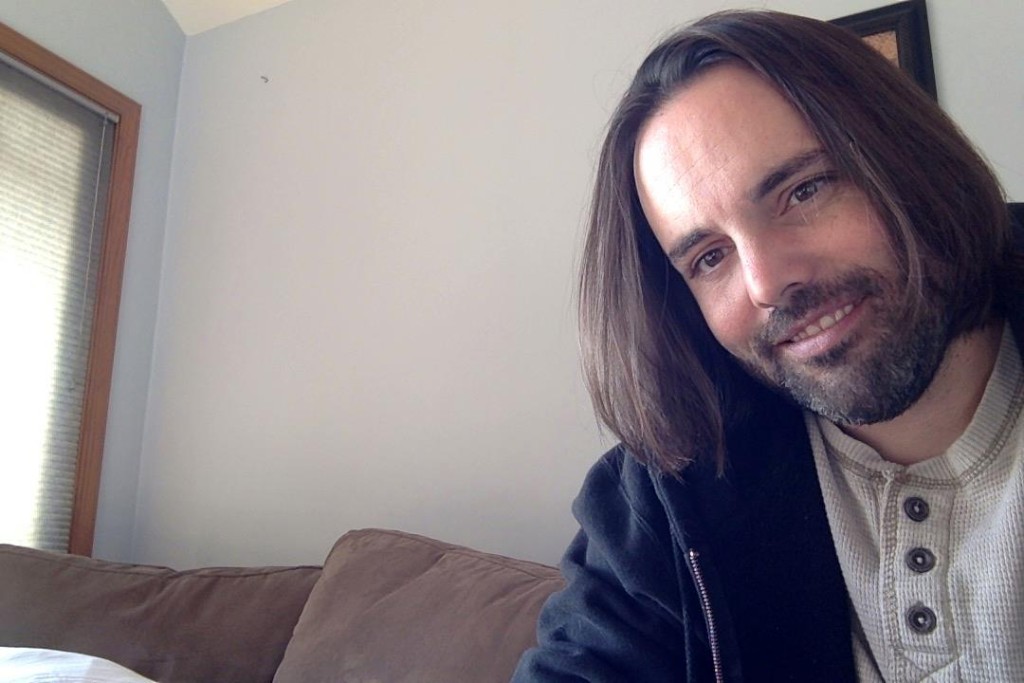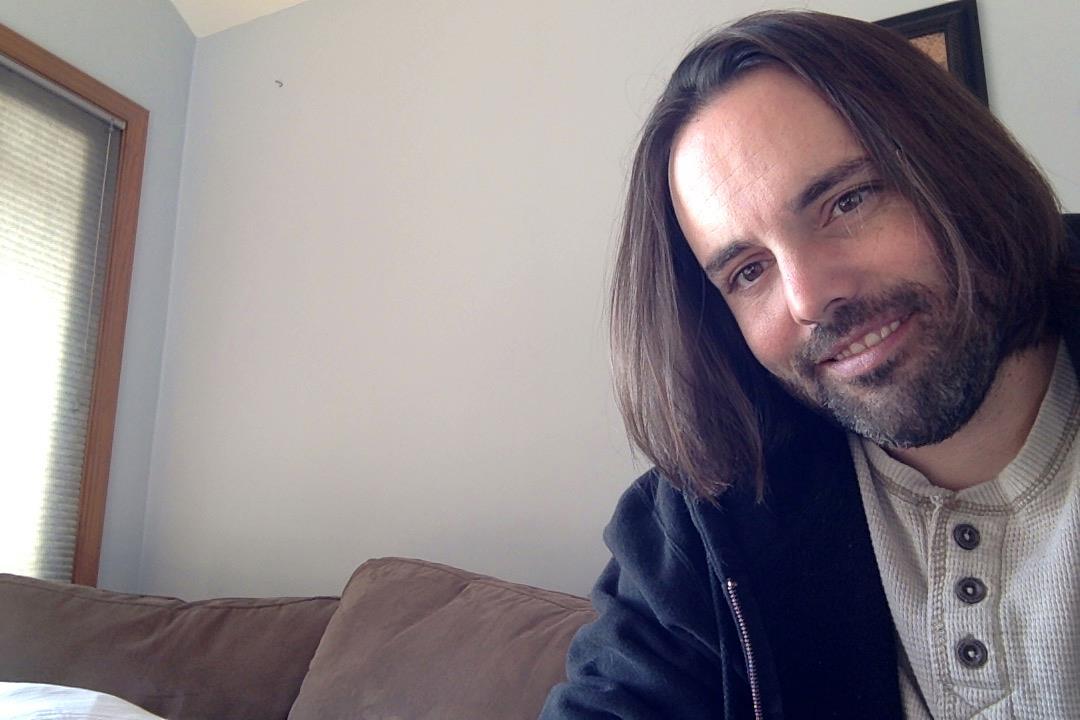 Hi, my name is Tim McAuley.
On my 37th birthday, I finally stopped searching for happiness.
And decided to do the opposite of what most Self-Help Teachers teach.
Stopped practicing the power of positivity, and leveraged pessimism.
Didn't set SMARTER Goals, threw goals out the window.
And a weird thing happened.
A few weeks later, overwhelmed had almost vanished, and I felt pretty damn good, even though I was still single and sharing a little dumpy trailer in South Eastern Ohio with my Dad.
If you want to take back your reality, the first step is to OWN YOUR SHIT.
Get to know what triggers your angst. Learn to shift anxiety into excitement. Enjoy the life you live.
Stop looking around at what others have and appreciate what's yours.
It's a subtle shift.
The Power of Acceptance
OWN IT. Savor good things; make a game out of enjoying the not-so-good.
That's freedom.
It's not about being positive all the time and good things happen.
It's about noticing the good things that are already there.
Then, it's about creating more good things.
You create more good with consistent actions.
And before you invite more love, or more success into your life, you might have to work out a new story.
Tame Your Inner Critic.
We all have a narrative that defines us.
Change will happen even if you don't change the way you see yourself, and you don't pay close attention to the way you show up on a daily basis.
But, you'll have much more influence on your future, if you spend the time and energy to reframe the way you see yourself and how you fit into the world.
If you are ready to invite the possibility of love into your life and focus your attention back on creating the life of your dreams, please get crystal clear.
March 2013, after a month of going all in on my life, things changed.
My Dad asked me to leave Ohio by winter. He said something close to;
"This place isn't for you. Get back to the water. Keep writing. Find a woman. You're a great man, and you deserve more than this. Go get it."
It was weird.
I'd finally gotten to the point where living in that dumpy trailer, working that crappy job, and being single was perfectly fine with me. No desire for more. No resistance. Just joy.
But, the idea of getting back out to explore the world seemed great! So, I did what any self-help junky would do, I created a Dream Board.
A month later, I realized something strange. My vision was incomplete. I create this video.
And then developed two exercises; a meditation called Remembering the Future that finished with a Note from Future Self.
The combination of the two help keep you focused on your desired outcome, and more importantly focused on daily actions, routines, and rituals that'll create that future.
The video, depicts my 5 year plan.
Within the first year most of it was my reality:
My wife and I met 4 months after the video. She lived at Smith Mountain Lake. A few months after we moved in together, she unknowingly bought the same car and the same paddle board from my video. And I got hooked up with a Paddle Board Company.
We married on February 14, 2015.

I'd been working as a writer since January, and teaching Stand Up Paddling in the Summer.
My dream life unfolded for all to see on Facebook.
Friends started asking me to show them how I did it.
Annette kept prodding me to put it out there and teach others how to do it as well.
She said:
"I've lived with you long enough to know how you apply this stuff to your life, you showed me how to do this to change jobs and start my own business. Trust me when I say YOU NEED TO TEACH PEOPLE THIS STUFF!"
And, you know what they say, "Happy Wife; Happy Life."
So, here we are.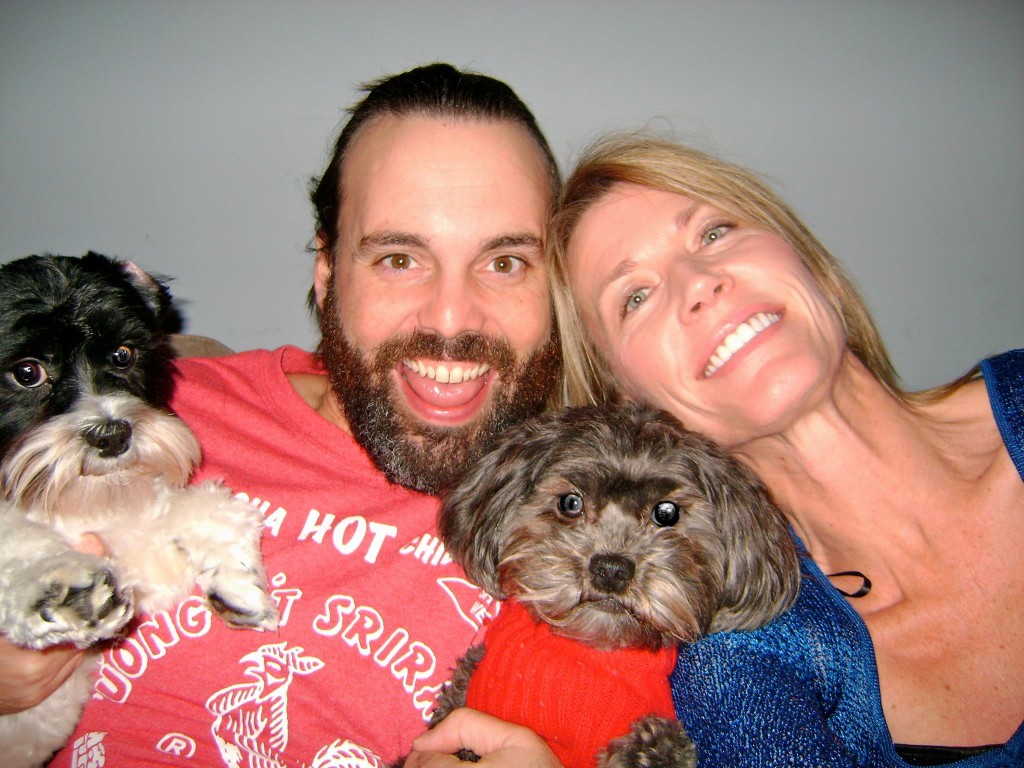 After a little inner work of my own, this site was brought back from the dead.
Let me tell you what Soul Surfer means.
Surfing was my first spiritual experience.
It changed everything about me.
Even though, I'm still a pretty crappy surfer, something about catching a wave makes me feel at home.
It's freedom.
And I learn so much about myself and my place in the universe from my time on the water.
Surfing and Stand Up Paddling are a perfect metaphor to help me solve issues in other areas of my life.
I've learned that how you do one thing, is how you do everything.
Anyhow…
Back in 2004, a friend of mine called me a soul surfer.
He told me I reminded him of surfers he'd grown up with; laid back style on the board, big goofy smile no matter the conditions, and talking about surfing as if it's some sort of path to enlightenment. Soul Surfers.
Later, when I decided to write my first book, the name "Soul Surfer's Guide to Happiness" came out of me and it just stuck.
My goal here at Soul Surfer School is to help other people use the same principles to live a happier, richer, and fuller life.
No Surfing or Paddle Boarding required.
What do I mean by the "Principles of Soul Surfing"?
We'll use Brad Melekian's definition of the term Soul Surfer from his 2005 article in Surfer magazine:
to pursue surfing not just as an athletic endeavor or as a sunny day diversion, but to try to glean whatever lessons you can from the practice.

It means being aware of your surroundings, and respectful of the people and places that you interact with.

It means being patient, mindful, kind, compassionate, understanding, active, thoughtful, faithful, hopeful, gracious, disciplined and…good.
Let's break that down line by line.
1. It's not about results, it's about daily lessons
A LOT of self-improvement advice, as well as many spiritual practices, can if you don't pay close attention, become nothing more than ANOTHER distraction from the real lessons that life offers you on a daily basis.
When you stop distracting yourself and attempting to numb uncomfortable feelings, things shift in your life. You stop holding yourself back. You stop letting your inner critic have rule over your actions.
2. It's all about being aware of your environment from the inside out.
Think of emotions as you do waves.
Jon Kabat-Zinn wrote: "You can't stop the waves, but you can learn to surf.
You need to get your balance and learn to maintain it, and be able to fearlessly paddle into waves to learn to surf. And if you're an over-thinker like me, then you need to learn to find your balance and maintain it in social situations, so that you can always be respectful, of the people and places you interact with.
3. It's about being a good person.
Being patient, mindful, kind, compassionate, understanding, active, thoughtful, faithful, hopeful, gracious, disciplined and…good are just a really great combinations of values and characteristics.
Soul Surfer School's mission:
To help other people tame their inner critics, and shift how they show up in the world so that they can attract the person of their dreams and create their dream life together.
The funny thing is, when I was single, I didn't think that relationships like the one I enjoy today existed.
I thought marriage was where happiness went to die a slow painful death.
But, the reality is, marriage, just like the rest of life, is WHATEVER THE HELL YOU MAKE IT!
Let go of what you think relationships are.
Create your own definition.
Decided that you will have that or something better….
…or you'll be happy the happiest single person alive!
To do that you have to know a few things and make one promise to yourself:
FIRST you have to know YOU: strengths, flaws, wants, desires, fears, habits, and motivations
SECOND, you have to know WHO would FIT with YOU:
Know your ideal match so well, that you don't get distracted with repeating past relationships, and so that you know when to stay and when to walk away.
Then you have to promise yourself to either find THAT PERSON and be happy or be single and happy.
I never thought I'd get married, but now, I think everyone deserves a relationship like ours: one that's fulfilling, gives you the freedom to be yourself, and the support to fulfill your potential in life.
I want to help as many people as possible to get there.
If you want more of my take on Finding Lasting Love, go here to get access to a Complimentary Video Series.
If you'd rather get started today, schedule a Deep Dive Discovery Call.
I have a knack for helping people solve problems.
I've been helping people since 2006 solve relationship stuff, business stuff, and just about everything in between.
Connecting dots and finding blind spots come naturally to me.
And on the "StrengthsFinder" Test, Strategy tops my list.
Deep Dive Discovery and Strategy Calls are 2 hours and only cost $150, but if you sign up below I'll waive the fee, and at the end of the call, if we jive, we might be able to work together.
Here's what a few people had to say about their experience with Deep Dive Discovery and Strategy Calls with me.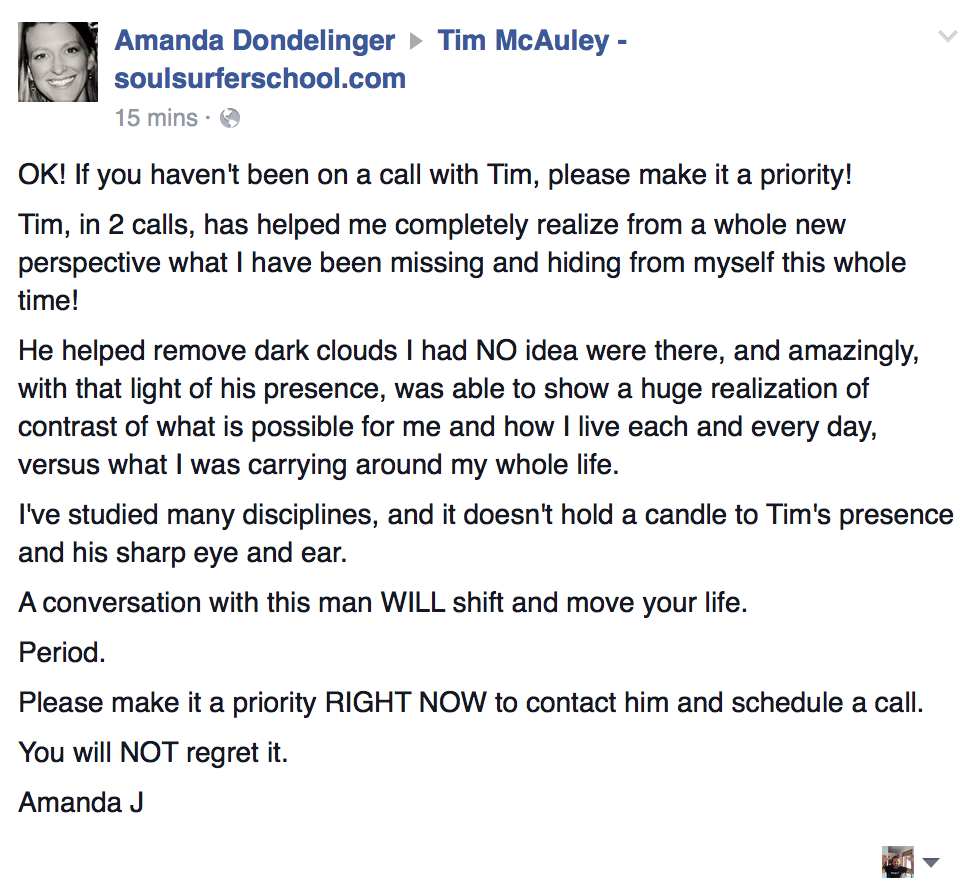 [optin_box style="8″ alignment="center" email_field="null" email_default="Enter your email address" integration_type="custom" double_optin="Y" name_field="null" name_required="Y" name_default="Enter your first name"][optin_box_code]
[/optin_box_code][optin_box_field name="headline"]Schedule Your Deep Dive Session Now[/optin_box_field][optin_box_field name="paragraph"]PHA+TGV0J3MgaG9wIG9uIGEgY2FsbCB0b2dldGhlci4gPC9wPgo8cD5JJ2xsIGhlbHAgeW91IGdldCBjbGVhciBvbiB3aGF0IHlvdSB3YW50LCB3aGF0IG1pZ2h0IGJlIGhvbGRpbmcgeW91IGJhY2sgZnJvbSBoYXZpbmcgaXQsIGFuZCBnaXZlIHlvdSBzb21lIHNwZWNpZmljIHJlY29tbWVuZGF0aW9ucyB5b3UgY2FuIHRha2UgYWN0aW9uIG9uLCBhbmQgaWYgaXQncyBhIGdvb2QgZml0LCB3ZSBjYW4gZGlzY3VzcyB3b3JraW5nIHRvZ2V0aGVyITwvcD4K[/optin_box_field][optin_box_field name="privacy"]We value your privacy and would never spam you[/optin_box_field][optin_box_field name="top_color"]undefined[/optin_box_field][optin_box_button type="0″ button_below="Y"]Yes! Let's Talk[/optin_box_button] [/optin_box]
Another Client Diane, wrote the following:
"I honestly had no clue what a 'life coach' was until I met and subsequently worked with Tim.

It is the best decision I ever made.

Tim is one of those rare individuals who you immediately — IMMEDIATELY feel comfortable with from the first hello. No pretense, no politically correct double-speak, he is the real deal. He is always willing to be totally transparent with his own personal struggles, which creates a unique container of safety and trust.

To say I am transformed would only tell half the story. His unconditional love helped me face the demons from my past and lay them aside for good.

Prior to working with Tim, I had been in therapy off and on for 20-30 years.

Although he is not a therapist and has no training in that, the space he held has allowed me to stop seeing a therapist and emerge on the other side of the depression that plagued me, happier, healthier, and whole.

While I still continue to take an antidepressant simply because my brain doesn't produce enough 'happy chemicals,' the joy I feel, the zest for life, the looking forward to each day are a direct result of my work with Tim.

I can be a real pain in the ass, but Tim lovingly held my feet to the fire, not allowing me to bullshit my way out of the assignments he gave, all the while helping me to understand what was going on underneath all the excuses. Mindfulness and gratitude were the cornerstones that lit my path home.

Last summer I married myself, saying 'I do' to the woman I always was but was terrified of showing. That is the legacy Tim gave me.

After my self-marriage, I did some tune-up work with Tim on relationships, using what he learned on his path to find his love with Annette.

Shortly after that, I met a man who has all the qualities I learned I was looking for.

It is honestly the first healthy relationship I have had in my years on this earth.

Last fall I had the opportunity to spend 10 glorious days with Tim and Annette in their home.

I can tell you that the Tim who coached me is the exact same Tim I saw 24/7 while I was under the same roof with him in Virginia.

He is as a real day to day as he is through his emails, phone calls, and Skype sessions.

Two of the qualities I value most highly in people is integrity and authenticity. Those are qualities Tim embodies. It is what makes him so effective as a coach.

Working with him was an investment in myself that paid me back in ways that continue to amaze me.

I am blessed and fortunate to have made the decision to work with Tim.

I am home….I have arrived."
[optin_box style="8″ alignment="center" email_field="email" email_default="Enter your email address" integration_type="getresponse" double_optin="Y" list="pXqqs" name_field="name" name_default="Enter your first name" name_required="Y"][optin_box_field name="headline"]SIGN UP for a Deep Dive Strategy Session ($150) [/optin_box_field][optin_box_field name="paragraph"]PHA+TGV0J3MgZ2V0IHRvZ2V0aGVyIGFuZCBzZWUgd2hhdCB3ZSBjYW4gZG8gdG8gaGVscCB5b3UgZmluZCB0aGUgbG92ZSBvZiB5b3VyIGxpZmUgYW5kIGNyZWF0ZSB0aGUgbGlmZSBvZiB5b3VyIGRyZWFtcy7CoDwvcD4KPHA+SG9wIG9uIGEgY2FsbCB3aXRoIG1lIGFuZCBsZXQgbWUgaGVscCB5b3UgZmluZCBzb21lIGJsaW5kc3BvdHMgdGhhdCBjb3VsZCBiZSBzdG9wcGluZyBsb3ZlIGZyb20gZmluZGluZyB5b3UuwqA8L3A+Cg==[/optin_box_field][optin_box_field name="privacy"]We value your privacy and would never spam you[/optin_box_field][optin_box_field name="top_color"]undefined[/optin_box_field][optin_box_button type="0″ button_below="Y"]Book Now. Click Here. [/optin_box_button] [/optin_box]
I hope to talk to you soon.
Before you go, let me say this.
Don't believe everything you read.
Not on this site, or any other site on the internet.
Don't believe it even if it's in a book.
And PLEASE test all of your own assumptions; especially the assumptions about what is possible and what you deserve.
Not everything in print is worth the paper.
A whole bunch of New York Times Best Sellers offer really crappy advice!
And I'm willing to bet, that you have some assumptions that freeze you in your tracks and block you from living a more awesome life.
The crappy advice of good marketers has been pissing me off for years.
Take for instance the idea that we only use 10% of our brain.
I first learned about that in 2004 listening to either Deepak Chopra, Jack Canfield, or one of those nice people from the movie the Secret.
The 10% rule sounded reasonable to me, and then the teacher shifted to speak about the "Real Secrets of Success" and "How to Fake it til You Make It".
They talked about creating a vision and upping your vibe.
I loved it.
I did my best to live it and preach it to EVERYONE!
Then, one day I read an article that Benjamin Radford wrote titled "The Ten-Percent Myth".
It kind of pissed me off that self-help gurus continued to teach that shit even though it had been debunked several years ago.
Makes you wonder what else they teach that doesn't hold merit.
Man, I really loved the Movie the Secret. It gave me hope. Filled my mind with possibilities of a brighter future.
Hell, I even wrote a book and published in 2011, that was filled with Hyperbolic Pseudoscientific Bullshit just like I'd learned, because in my heart I thought it was true.
Some of the techniques I use today are similar, but for very different reason; none of those reasons are magical.
You don't have to worry about me repeating the mistake of getting sucked into BS guru stuff.
Soul Surfer School is dedicated to deliver stories, studies, and the science of personal development, without resorting to magical promises and instant healing!
The main focus of the Soul Surfer School is:
I did that by Taming the Inner Critic, Learning to Better Deal with Stress, so Figuring out How to Be Happier Now.
At Soul Surfer School we still take an inside out approach to living.
We believe that the quality of our lives reflects the quality of our thoughts.
And to some degree, we create our own happiness, then we can share it with the world.
There is no magical, fluffy, nonsense here.
We love science.
We embrace reality.
Soul Surfer School is on a mission to help people find lasting love, happiness, and success.
To be part of Soul Surfer School… Start here…
Or go ahead and book a call with me, and you'll know all that you need to know.