It sounds shallow, but one of my big goals right now is to shed fat and look better naked.
What can I say?
Sometimes I'm shallow.
Anyhow…
The wife and I decided to change up the diet a little, and we decided to go full bore.
We're making changes in every area of our life.
Watch the Video, I posted on Facebook to learn about the book that helps us reach our health and fitness goals.
Episode 1: The Book that Helps You Shed Fat and Look Better Naked

If this helps, then share it or tag a friend.

Talk to you tomorrow.

Love your face!

Posted by Tim McAuley on Tuesday, July 7, 2015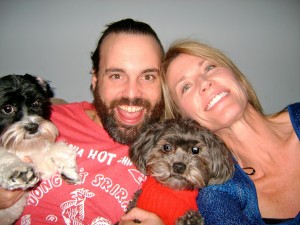 Over the course of the next few months, I'll be posting regular videos on Facebook, writing blog articles on here, and creating some audios about the journey.
I'll share with you each of our experiments, our successes and our failures, in hopes that it inspires you to show up in your own life in a bigger and more meaningful way.
Please note, that I am not in any way suggesting you do these things.
I assume that you're a rational adult and can make your own decisions.
You should know that I'm not a Dr. or a personal trainer. I'm an ex-bartender. Writer. A self-help junkie.
For me to reach the goals I've set, I'm going to have to step up my game big time.
I'm going to have to show up in a bigger way in every area of my life.
It's going to be mostly and inside job.
Something inside of my brain short circuits and overloads the system and on any given day, I get a fraction of the stuff done that I hoped. And that messes with me a little. So, I'm sure this will be an eyeopening ride for both of us.
Here's to us!
Cheers.
Talk to you soon!
LOVE YOUR FACE!